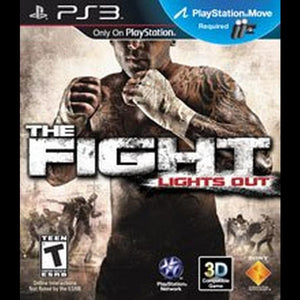 Grab your PlayStation®Move motion controllers and step into the dark and gritty underground of bare knuckle brawling in The Fight: Lights Out™. The power to climb to the top of the underground scene is in your hands. The only rule is that there are no rules — you decide how to take down your next challenger. Get them in a headlock and throw elbows to the skull, or go ballistic by swinging with all-out haymakers. Use the PlayStation®Move motion controllers to dominate opponents with accurately tracked strikes. Do you have what it takes to rule the underground?
Take control of a rough and tumble bare-knuckle fighter in the campaign mode as you crusade to beat down anyone that stands between you and your shot at becoming the toughest fighter out there.
Feel the action by using the PlayStation®Move motion controller as you step into the game and command your fighter's every movement with lifelike 1:1 motion for deadly precision.
Unleash a wide arsenal of brutal attacks. Start simple with punches and uppercuts before amping up the intensity with headlocks and overhand blows to the head, plus an assault of other dirty fighting techniques using two PlayStation®Move motion controllers at once, together with the PlayStation®Eye camera.