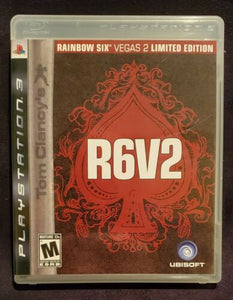 Product Information
The city of sin is under siege from terrorists, and it's up to the talented Rainbow Six team to take them out. The follow-up to 2007's acclaimed squad-based shooter emphasizes new customization features and refined play mechanics. Vegas 2's storyline runs concurrently to the first game's story, so a new team is now playable. The leader's name is Bishop, who can be created as a male or female operative with a choice of gear and weapons. One of the game's biggest enhancements is an expansion of the "Persistent Elite Creation" concept from earlier titles. Now players can level up their characters throughout

 

any

 

of the available play modes. Similar to the online component in Call of Duty 4, players receive experience points by performing actions, completing objectives, and achieving victories.

Killing terrorists, for example, or simply reaching a checkpoint earns characters experience, represented on a meter in the heads-up display. Once the meter is filled, players will advance in rank and receive new gear. Other ways of earning equipment include specializing in specific combat techniques. This A.C.E.S. system (Advanced Combat Enhancement Specialization) gives rewards for skills in three areas: close quarters, assault, and marksmanship. Players who make long-distance kills or headshots will earn points in the marksmanship category, which can unlock specific weapons like sniper rifles or assault rifles. Points are also earned for making kills while holding onto a rope, taking out multiple targets at once, using flash bangs, and so forth. Everything unlocked in one mode can be used in the others.

Since the story takes place during the first game's time frame, players will explore different parts of the city, taking the fight on rooftops, through back alleys, across residential areas, within a strip club, inside the Las Vegas Convention Center, and more. Up to 14 players (16 on a dedicated server) can compete online in one of seven modes. New to Vegas 2 are the following formats: Team Leader, Total Conquest, and Demolition. Team Leader involves hunting down and killing the rival squad's designated leader while the other side attempts to do the same. Total Conquest has teams capturing and holding three satellite transmitters until time expires, while Demolition has one side trying to detonate a bomb as the other tries to defuse it. Other online improvements include faster loading times, more host control options, and the ability to save up to four weapon profiles.

The limited edition version of Tom Clancy's Rainbow Six: Vegas 2 includes the following bonus features: video footage of tips and tricks from professional gamers and members of the Frag Dolls; a "day in the life" video of a professional gamer; highlights from Major League Gaming's 2007 season; a collectible keychain in the shape of a poker chip; and an exclusive look at Tom Clancy's EndWar.