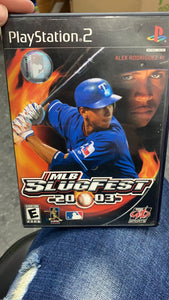 Product Information
MLB SlugFest 20-03 is Midway's first crack at the national pastime after releasing arcade-style takes on basketball, football, hockey, and soccer. As the title implies, action is designed to be a big part of the game, with pitchers having the option to throw bean balls at batters and exaggerated animations used to portray collisions, turbo throws, and leaps defying the laws of gravity. While the action may be unrealistic, the game does feature an official Major League Baseball license for authentic teams and stadiums.

The action is viewed from a traditional perspective looking through the eyes of the catcher, with the camera switching to either the diamond or outfield once the ball is put into play. Pitching involves selecting one of four pitches and then its location before carrying out the throw. Hitting uses a timing-based system with options for a more powerful swing, bunt, and to have a base runner steal. What sets SlugFest apart from typical baseball games is the ability to use turbo while at the plate, on the mound, and in the field.

Pressing turbo while swinging the bat increases the power of the swing, while throwing a pitch with turbo increases its velocity and break. In the field, players can make stronger throws and run faster. While on the base paths, players can also use turbo to drop kick fielders looking to tag them or take them out with hard slides. Conversely, infielders can apply hard tags to runners to diminish a portion of their turbo. Each player in Slugfest is rated from 1-10 in power, speed, and batting ability, which influences more than just their ability with the bat.

A runner with a high rating in power, for example, is more likely to cause an infielder to bobble the ball after a hard slide or scuffle. These ratings can be diminished if a pitcher throws a bean ball at the batter, which is a selectable option on the pitch type menu. The result of a hit batsman may hinder or help a player, as a portion of the ratings may go down or up depending on whether the batter is hurt or enraged. Game modes include a 52-game Season, a 30-game Challenge, a four- or eight-game Tournament, and a single game of Quickplay.