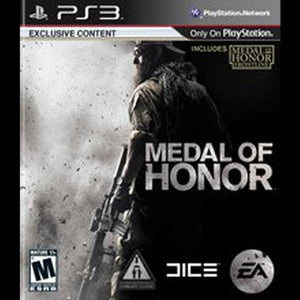 Product Information
Taking cues from the Call of Duty franchise it helped spawn, EA resurrects its floundering first-person shooter series by moving it from WWII into 21st-century Afghanistan in Medal of Honor. Taking place in 2001, when the U.S. military began combat operations against the Taliban, Medal of Honor puts particular emphasis on special operations soldiers from throughout the armed forces, known as Tier 1 Operators. Single-player missions are primarily focused on Tier 1 soldiers as they stealthily target Al-Qaeda strongholds, but gamers will also engage in frenzied firefights as an Army Ranger, and serve as the gunner on an Apache helicopter. Developer Danger Close Games stressed reverence for soldiers and authenticity in Medal of Honor, working closely with military veterans, featuring 24 real-world weapons, and ensuring that all of the action showcases the stark juxtaposition between Afghanistan's natural mountainous beauty and the hollowed-out Soviet tanks and crumbling buildings that indicate the decades of perpetual combat that have plagued the country.

The multiplayer component of Medal of Honor is handled by EA DICE, the studio behind the well-regarded Battlefield: Bad Company series, and the action once again draws some inspiration from Infinity Ward's Modern Warfare games, with combatants persistently progressing to higher ranks, unlocking new weapons, and earning special bonuses for kill streaks. Players can choose from the Rifleman, Sniper, and Special Ops character classes and then battle across eight different maps as a member of either the "Coalition" forces or the Opposing Force "Insurgents," with all four game modes supporting up to 24 combatants. The "Team Assault" mode functions as a traditional team deathmatch, with both sides attempting to amass a certain number of points, while "Sector Control" mode finds gamers attempting to dominate smaller sections of each map in order to earn points. The "Objective Raid" mode gives players five minutes to capture or defend two objectives on the map, and the "Combat Mission" mode is a slower, story-driven campaign in which Coalition forces are tasked with capturing five consecutive objectives, while the Insurgents must prevent them from progressing. Medal of Honor also features a "Hardcore" mode, in which the mini-map and weapon crosshairs are removed, health does not regenerate, ammo cannot be acquired from fallen enemies, and players can be injured by friendly fire.

The "Limited Edition" gives players instant access to the MP7 submachine gun, the TOZ194 and 870MCS Shotguns, an exclusive "Special Ops" skin, and early access to the Battlefield 3 beta.