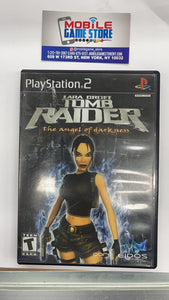 Product Information
Tomb Raider: The Angel of Darkness has been billed as the first true renovation of the best-selling series since the ground-breaking 1996 original. This edition is built on a completely new engine, which pumps out "next-generation" graphics and allows many new animations and interactions. Lara herself enjoys the engine upgrade as well, as she's now rendered with ten times the number of polygons as in earlier Tomb Raider games.

The role-playing aspects of this adventure are slightly more central to play than in earlier games. Lara must enter a dark, supernatural world where nothing is certain. She must interact with other characters, and complex situations call for her to make ethical decisions where there is no clear-cut "good" or "evil" choice. Lara also develops throughout the game, as her abilities improve and adapt to the way she's played. A new system is designed to offer smoother control of Lara's many moves, which include new stealth attacks and hand-to-hand combat.

Five forgotten works of art, the 14th century Obscura Paintings, will unlock devastating powers if they fall into the hands of a mysterious alchemist who leads a secret alliance of powerful people. Stopping the villain would be difficult enough, even for the resourceful Ms. Croft, but our heroine's quest is complicated as she is framed for the murder of her former mentor, Von Croy. Now, on the run from the authorities, Lara must avoid being captured as she strives to keep the alchemist and his alliance from unleashing their evil on the world.