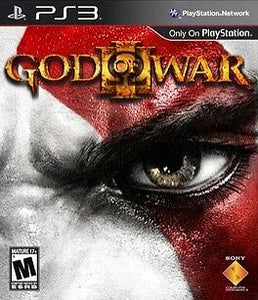 Product Information
After three years of honing his golf game (Hot Shots Golf: Out of Bounds), loaning out his trademark looks (LittleBigPlanet), and working on his hand-to-hand combat skills (Soul Calibur: Broken Destiny), Sony's belligerent mascot Kratos gets back to the old-fashioned deicide that made him famous in God of War III. Serving as the final installment in an epic trilogy, God of War III picks up where its predecessor concluded: with Kratos and the Titans scaling Mt. Olympus for a final confrontation with the Gods.

Gamers will guide the irascible "Ghost of Sparta" on his relentless pursuit of vengeance, taking him to the heights of the famed Greek summit, exploring the bowels of Hell, and literally standing on the shoulders of giants in Shadow of the Colossus-style levels that take place entirely on living beings the size of skyscrapers. The gameplay is once again designed to mix frequent bouts of furious, bloody combat with periods of exploration and puzzle solving, all set within massive, multifaceted levels. Sony's Santa Monica development branch created an entirely new engine for God of War III, promising groundbreaking lighting techniques that mimic the human retina, and textures designed to realistically depict muscle contours and the glisten of freshly spilled viscera.

New magical attacks and weapons, such as the supremely powerful Cestus gauntlets, help Kratos unleash his wrath in a variety of ways, but familiar items such as the Golden Fleece, the Icarus Wings, and the permanently affixed Blades of Chaos also return. Beasts are now a means of conveyance as well as an obstacle, as Kratos can rip the wings from a Harpy to glide over chasms or yank the eyeball off a Cyclops to ride it like an enraged bull, and players can help guide the tortured soul along his path of ultimate revenge by using new grappling techniques and wall-to-ground attacks to dispatch hordes of mythological foes.