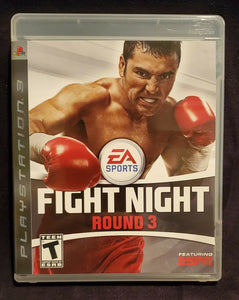 Product Information
Fight Night: Round 3 makes its PlayStation 3 debut with a new graphics engine that allows players to gauge their rival's health and energy simply by watching his dynamic facial expressions and body cues. The analog punch system from the 2005 version has returned with new punch types, each of which can shift a fight's momentum if landed correctly. The haymaker punch is now harder to connect, but it is also more powerful. The new flash KO punch can overpower a boxer in one hit, putting him in the dangerous position of being knocked out, while the stun punch switches the default third-person view to a first-person perspective as players attempt to finish off their stunned opponent with a devastating blow. While these impact punches can change the course of a fight within a few seconds, they are considered high-risk swings that can leave a boxer vulnerable to counter moves.

The career mode from the series has undergone a few changes to offer a more personal approach to a boxer's legacy. Rivalries will now be created from key match-ups, flamboyant claims at press conferences, and clashes during weigh-ins, allowing players to square off against their heated rivals in multiple rematches for fame, money, and respect. Players are also free to re-create some of the sport's greatest bouts with the included roster of legends from different eras and weight classes, whether it's Ali versus Frazier, Leonard versus Hagler, or Gatti versus Ward. As an added bonus, the game features ESPN Classic footage of the real-life fights that helped shape the sport. All of the featured play modes from 2005's game have made the transition to Round 3, although the create boxer option now lets players choose from multiple styles in footwork, punching, and blocking for greater customization. Online support is also included for head-to-head matches against players from around the world.

Unique to the PS3 is the "Get in the Ring" mode where boxers go head-to-head in a split-screen first-person point of view. Playing through the eyes of a fighter, punches will have more affect and if players are hit in the eye, a temporary flash of light will fill the screen, simulating impact. Toward the end of the fight, if a character has taken numerous hits to the eye, a gamer's field of vision could be hazy in that area or fade out completely.