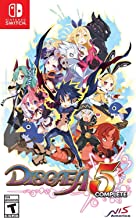 The Complete Disgaea 5 Experience: Enjoy the full Disgaea 5 story along with 8 bonus scenarios featuring 7 fan-favorite characters and classes from past Disgaeas.

A Legendary RPG Series Reborn - The latest flagship RPG from the most prolific strategy RPG developer in the world welcomes newcomers and veterans alike with a brand-new story and dials the hilarity and strategy up to level 9999.

Hundreds of Hours of Content: Recruit new units from over 40 jobs and classes then dive in and strengthen them as you see fit in their personal Chara Worlds.

Find hundreds of items or make your own at the Alchemist, then power them up them up and discover hidden abilities in the Item World. Or, if you're feeling wild, change the rules of the game at the Dark Assembly.

Enjoy English in-game text and English and original Japanese in-game voices.