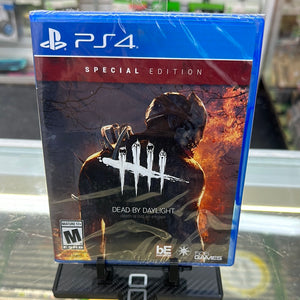 DETAILS
Dead by Daylight is the hottest modern-day horror franchise with a global player-base of over 8 million! Dead by Daylight Nightmare Edition is the latest retail installment. In this asymmetrical, multiplayer (4vs1) horror game, players take on the role of a savage killer, or play as one of four become Survivors frantically scurrying to avoid being caught, tortured and killed.
Survivors play in third person and have the advantage of better situational awareness. The Killer plays in first-person and is more focused on their prey.
Lots of NEW Content, Small Price – Dead by Daylight: Nightmare Edition contains the original game, The Curtain Call Chapter, Shattered Bloodline Chapter, the Headcase Cosmetic Pack, and Stranger Things® which includes Steve, Nancy and the terrifying Demogorgon!
Also Includes the Extra Content from the Original Release – The original retail release included 4 extra pieces of content!

The 80's Suitcase add-on
The Bloodstained Sack add-on
The of Flesh and Mud Add-on
The Spark of Madness add-on

Survive Together… Or Not – Survivors can either cooperate with the others or be selfish. Chances for survival depend on your decisions.
Where Am I? – Each level is procedurally generated, so you'll never know what to expect. Random spawn points mean you will never feel safe as the world, and its dangers, change every time you play.