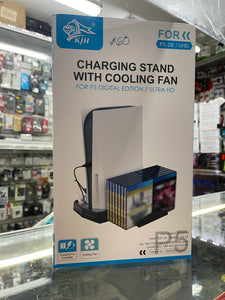 1. Designed for heat dissipation of PS5 host (digital version/CD-ROM version).
2. There are 3 sets of USB HUB, expand USB function, easy to use.
3. There are 2 sets of handles to charge the console, and 2 sets of PS5 handles and the console are charged at the same time.
4. With handlebar charging indicator function, red light when charging, green light after full charge.
5. With a fan switch, it can quickly and effectively dissipate heat to the PS5 host.
6. Power supply description: Input DC 2A, output 0.5~1A.
7. Material: ABS. Fan speed: 3000RPN.
8. Color: black.