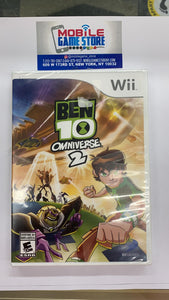 Set off on an all-new adventure with Ben . he infiltrates Incursean battleships to save the resistance fighters. Face off against new enemies featuring authentic voices in an all-new story written by the writers of the actual Ben 10 Omniverse TV series. All-new free-running chase and brawl sequences and fast pacedalien switching actionmake this the most intense Ben 10 game yet!
GAME FEATURES:
Play as favorite characters from the show including Ben, Rook and Omnitrix aliens in the multiplayer brawler mode.
The fastest Ben 10 game ever! Race against the clock and make each action count in all-new chase sequences.
Take multiple runs against a mission as you unlock new power ups and unlock new areas with each run.
Fight against the Incurseans in an all new storyline created by the writers of the TV show.
Alien upgrades! The Omnitrix now selects alien by class allowing players to store they favorite aliens by size and speed and select them on the fly as needed.
Play as Ben and Rook in multiplayer co-op mode.